MAT PROCESS: Shaping by the MAT process reduces wheel weight by 10%-15%. Every pound of unsprung weight savings has the effect of reducing overall vehicle weight by 20lbs. F1 REPLICA: Enkei is an official supplier of the McLaren Mercedes Formula One Team. The RPF1 was developed using the same technology as the Formula One race wheel.
TWIN SPOKES: Enkei's dual open stance spoke design is used on the McLaren Mercedes Formula One race wheel. The twin spokes achieve better stress dispersion on curves, hard braking, and extreme race driving. CENTER DESIGN: Enkei's pocket design around the bolt circles increases rigidity and keeps the wheel cooler during aggressive race driving. Sizes 15, 16, 17, 18 & 19 Inch (no cap included for 14-18) Available F1 Silver, Gold, Black, SBC (special order) Spec-E Inspected MAT Technology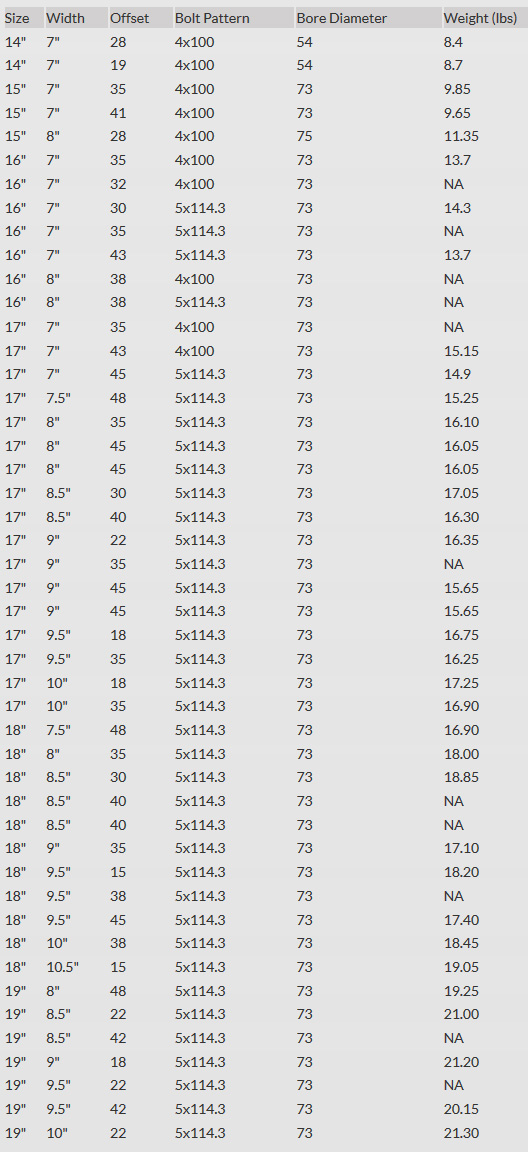 Product Fits:
Universal Product Fitment
Reviews
Write Your Own Review
Customer Reviews
| | |
| --- | --- |
| Price | |
| Fitment | |
| Performance | |

Review by

Daiheadjai

(on 2018-05-18)

I ordered these wheels for their light weight and OEM-quality.
These are tremendously light - 9.5lb per wheel (vs. 19.5lb for the stock alloys on my 08 Fit Sport), and you can feel the difference, not just when you pick them up, but when you turn the wheel (particularly at low speeds): my old wheels, despite being shod in worn-out, low rolling resistance 195 eco tires, offered far more resistance than the Enkeis wearing new, 205-width UHP summer tires.
I had a set of 17x8 +35 offset Enkei PF01s with the wider 225 tires (215s were stock),on a BRZ, and found steering feel got numb so I was pleasantly-surprised to find that these wheels maintained (and actually improved) the steering feel and communication.

Turn in is far better, but that is likely more attributable to the tires - however, the wheels (despite being smaller at 15x7) offer the benefit of sitting very flush with the fenders, giving the Fit a more purposeful, athletic look. Wrapped in 205s, the wheels have a bit of meat/sidewall protecting them from curbs.

These don't come with centre caps or hubrings, but they do come with aluminum valve stems (blue in my case). Do expect a little more road noise, as it seems the inside of the barrel of the wheel catches more pebbles and debris than the OEM wheels did, owing to the more open design.

Shipping was done via Penguin Pick Up - while it was the cheaper option ($10.95 shipping for the wheels and a sway bar, in 3 packages), it did take a little longer to fulfill (~3 weeks); not sure if the direct shipping method would have been faster. However, Eric and Teknotik were fantastic in answering my questions and keeping me updated.